Well seated
July 6, 2008Dan
No Comments »
Well I finally got a new seat on my motorcycle. Technically only the vinyl covering of the seat was replaced, but it's pretty much like a whole new seat. First of all, the cover is the only thing you normally see anyway. Secondly, I took the whole seat apart and sandblasted/painted the seatpan. It was almost rusted through in places and was greatly in need of some help. Also, the old (original) seat cover was being held together by duct tape. Or maybe I should say the duct tape was failing to hold it together. I don't have any pictures of the seat before I worked on it, but rest assured the old seat just looked bad and took the look of the rest of the bike with it.
Here's a few pictures of the seat as I was putting the cover on. First, just the seatpan after sandblasting/painting/protective trim: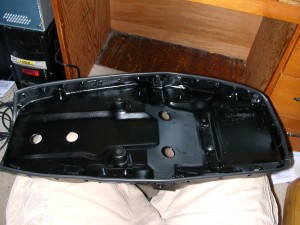 Then we put the foam back on and begin to attach the new seatcover (upside down):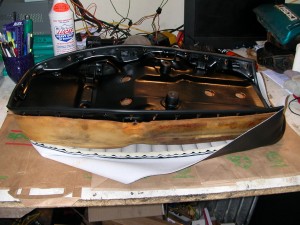 Seatcover is now on and centered properly: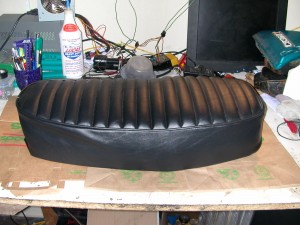 And then we hook the vinyl up underneath the seatcover and pull it tight to remove any slack:
And that finishes it off. I have one more pic of the bottom of the seat, you can sorta see how the vinyl is attached. It's not worth posting directly, but you can look at it by clicking here. So that's what has occupied my freetime recently. The Honda now has a nice new seat.
Tags: seat, upholstery